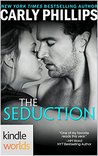 The Arrangement: The Seduction
by
Carly Phillips
My rating:
5 of 5 stars
The way Carly Phillips wrote this novella you do not need to have read The Arrangement series by H.M. Ward but you're going to want to when you're done with this. I haven't read it and I want to.
Chloe is a college senior working on her business degree with dreams of becoming a chef. A stupid mistake with her now ex-boyfriend has her already frigid parents even moreso with her and glad to have her move to the dorms for the rest of her senior year. When this happens, she gladly gets a job at a bar/restaurant as a waitress.
Zach is a PI bent on revenge on Chloe's old neighbor, Sean Ferro, for what he did to his sister, but when he starts in on his plan, he doesn't plan on falling for the girl he plans to hurt.
Zach comes to Chloe's aid when a college kid gets rough with her and slashes her tires. He befriends her, gains her trust, and ends up falling in love with her.
Chloe is cautious with men since her ex and the sex tape scandal. When Zach comes to her aid, she still doesn't want to trust him, but finds herself doing so as he becomes her friend and protector and something much more.
When Sean finds out Zach's name, he finds out who Zach really is and goes to him.
When Chloe finds out the truth, does Zach get his revenge? Does she forgive him and move on?
This short novella was enough to get me interested in H.M. Ward's The Arrangement series. A quick read that had seduction, love, action, and heartache. I loved it.
View all my reviews
Amazon Kindle Book link